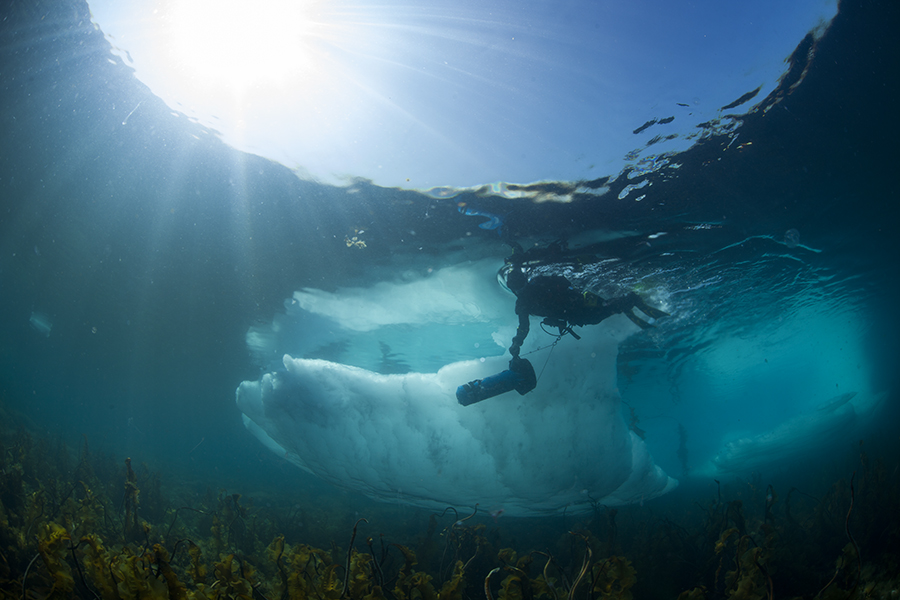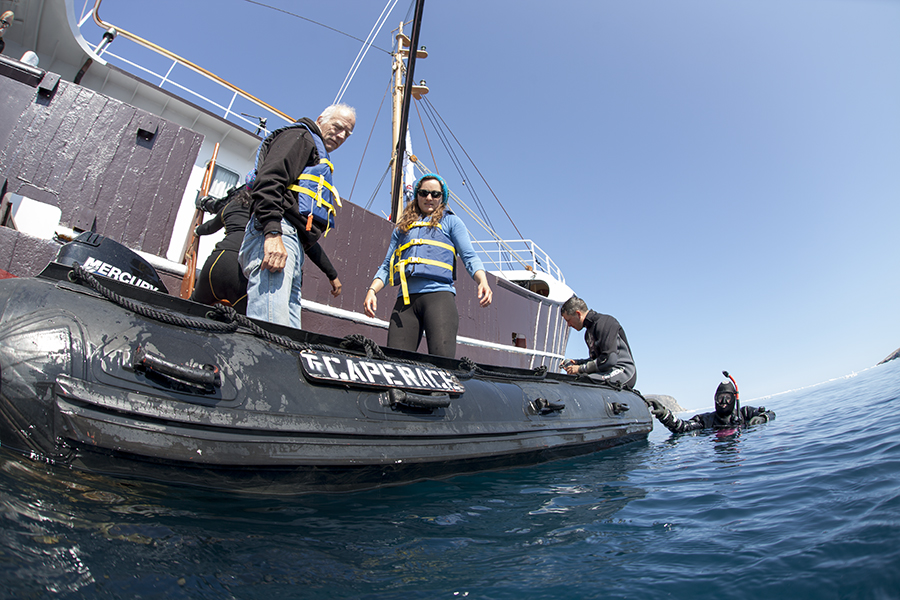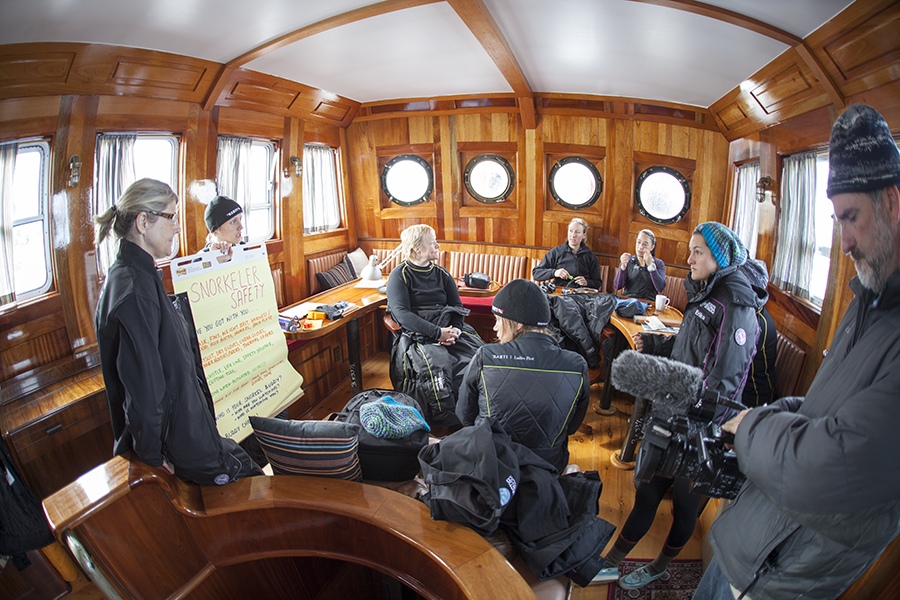 Nobody ever had real practice for something that has never been done before. How did Neil Armstrong practice how to walk on the moon? Individually and as a team, it can be challenging to develop an operational safety plan when you don't know all the factors you will encounter. On our Proof of Concept Expedition, we had a lot to learn.
We spent many hours on Skype and email, but on our project, we were working together as a team for the first time. We hired an expedition support organization Arctic Kingdom which assisted with trip logistics, outfitting and hiring the charter vessel MV Cape Race. Cape Race had experience in the Arctic but had never supported a snorkeling and diving project before. A compressor, tanks, weights and Divemasters were installed on the Cape Race, but we still had to develop a safety document that would address everyone's concerns, keep us within a tolerable risk envelope and would satisfy all the various insurers who also had a stake in creating a safe expedition.
Before I signed on to Sedna Project, I told Expedition Leader Susan Eaton that I was interested in developing the operational plan that would include how individuals prepared themselves for the expedition and how operations would occur on the boat. I developed a clear chain of command so that the Expedition Leader, Team Physician and Boat Captain could feel that they had the opportunity for veto if specific activities made them uncomfortable. I outlined a way for divers and snorkelers to accept personal responsibility and participate in planning and operations in a way that empowered them to take command, and also cancel or abort a dive if they felt they were over their heads.
On the first night of team building exercises in Nain, Assistant Expedition Leader Emily Dowding Smith asked us all to share our deepest fears about the project. She gave us each seven minutes to write down our thoughts and prepare to present them to the group. In the course of seven minutes, I counted all the dear friends and colleagues of mine who did not come home from expeditions. I recalled their smiling faces before the projects that were supposed to actualize their life dreams and I recalled writing letters to family, giving eulogies and going to far too many funerals. When the time came to present my fears I broke down into tears. Barely able to get the words out, my dear teammates offered for me to take a break, but through the pain, I knew this was the time to tell them that they were very special to me and that I wanted to get everyone home healthy above all other goals.
I am incredibly grateful to my teammates for their understanding and for using that empathy to conduct a smooth and safe operation every day. We gelled as team and we grew to be very effective together. We took turns being Dive Safety Officers, Deck Bosses and Deck Hands. We took every role with utmost seriousness even if that role was simply being in charge of safely loading a Zodiac or helping to dress another diver. I am incredibly proud of the focus on detail and concentration that everyone brought to each operation.
We achieved things that had never been done before and safely brought new challenges into our operations each day. Snorkeling on a relay in the middle of the Davis Strait with 9000 feet of water beneath us, I knew we could check off one big accomplishment. We are a great team.