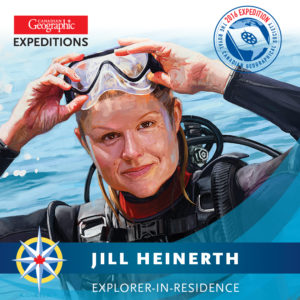 On June 8, 2016 Jill Heinerth was appointed as the first Explorer in Residence for the Royal Canadian Geographical Society.
Here is an audio link to her acceptance speech which is written below.
Acceptance of the RCGS Appointment as the Inaugural Explorer in Residence
June 8, 2016 on the occasion of World Oceans Day
Delivered at the Ripley's Aquarium of Canada
by Jill Heinerth
I hit the geography jackpot. I was born in Cooksville, Ontario in 1965 when the world was opening and anything was possible. Generation X they called us, post-boomers, baby busters, latch-key kids. An independent generation that launched with common media experiences like watching man walk on the moon and expanded to ubiquitous media and access to information that was unprecedented.
My parents encouraged me to chase my dreams, and see the world as one global community. We owned a spinning globe, an illustrated atlas and my grandfather's basement closet full of his lifetime subscription to National Geographic magazine. My Dad loved maps, treasuring his collection of topographics that he would use to plan our family canoe trips. We discussed different cultures and places around the family dinner table, and I grew up knowing that the world was open and our knowledge of it was expanding in every direction.
I was encouraged to participate in Girl Guides, loved weekend hiking on the Bruce Trail and treasured canoe camping experiences above all else. I'm sure my parents cringed when I came home bloodied or muddied. I know they were terrified when I struck out on my own to backpack around Europe. But nothing prepared them for the announcement when I declared that I was selling my advertising and graphics business to forge a creative career in the underwater world.
Today my business card title reads "Explorer." It is the best descriptive "handle" I can find for my work.
Now you might wonder what place a cave diver has taking on this new role as Explorer in Residence for the Royal Canadian Geographical Society? I spend my time swimming through dark places that few people will ever see or comprehend. I  swim through the veins of Mother Earth, within the lifeblood of the planet. In the pulsing vitality of your drinking water, I explore corridors filled with the very source of life. Water is the nourishment for mankind, the animal kingdom and agriculture that feed us all. I swim in the beginning of the pipe, where water wells up from the ground to serve as the source for creeks and rivers that reach estuaries that act as nursery grounds for the inhabitants of our oceans… the oceans that fulfill their role as the oxygen generating lungs of our planet.
Much of my work takes place in this hidden geography of the planet… I swim through the world's secret places inside aquifer caves, descending deep on ocean walls, exploring beneath Arctic ice and into historic shipwrecks. Through these adventures, I hope to connect people to their water resources and make this hidden geography a little less abstract.
There is no doubt that water is the defining issue of my generation. When oceans acidify, ecosystems collapse. When community water supplies dry up, unrest follows. When resources are despoiled by individuals or industry, we all lose. Water rich nations can thrive if they manage and protect their most precious asset.
Canada's hidden geography includes over 200,000 kilometers of coastline, more than any other country in the world. 8 percent of our territory is covered by lakes – more lake area than any other country in the world. We possess 9 per cent of the world's renewable fresh water, yet only half a percent of the global population. And according to a Nanos Policy Opinions Poll, 62 percent of Canadians regard fresh water as the country's most important natural resource; even over oil, gas and forestry. A Circle of Blue commissioned global study found that for two-thirds of us, key issues include water pollution and the lack of safe drinking water.
The health of Canadians is significantly affected by accessibility to clean, safe water. Each year 90,000 Canadians fall ill from waterborne pathogens and 90 people die according to Environment Canada. As many as 75% of water systems on First Nations reserve communities have significant threats to the quality and quantity of drinking water. In the past several years, 25 per cent of Canadian municipalities have experienced periodic water shortages. People do not know where their water comes from or how they can better protect it. Many of us don't realize how we are unintentionally over-using water in our daily activities and choices.
Our waterways offer commercial and recreational fishing, tourism and recreation. Our abundant reserves support the production of goods. Water irrigates our crops and bolsters the food and beverage industry. Flood control, drought mitigation, environmental purification and reserves for biodiversity; we ask a lot of our hidden geography.
The Royal Canadian Geographical Society has never had an Explorer in Residence. In fact, we're still trying to figure out what my role will entail and how we can fund some of these new initiatives. But I am a persistent dreamer who believes that once you set a plan in motion, anything is possible. My life is testament to that fact. And so I am aiming for two key goals.
First, I want to reach deep into the educational system to inspire young people to explore…. both in person and through modern online outreach opportunities. I want today's youth to understand that the world is at their fingertips through a connected global community. I want young people to recognize that they can make bold moves creating new careers and initiatives to solve emerging problems that are important to them. I want them to know that anything is made possible through diligence and teamwork.
Secondly, I want to share my adventures to help nurture a better connection between Canadians and their water resources. I want us all to celebrate and protect the summer arrival of humpback whales feeding on swarms of capelin in Newfoundland. I want to inspire parents to take their kids to Lake Winnipeg to play, so they will want to keep safe the vast watershed it serves. I want our citizens to learn from our First Nations fore-bearers about how to live in better harmony with our natural resources. I want to help my fellow Canadians understand that everything we do to the surface of our land will be returned to us to drink. I want to us to fully embrace how water flows into and out of our lives.
For me this appointment fulfills a life dream. The dream of a little girl who was told that nothing was impossible. The dream of a young Girl Guide who was taught how to live in balance with her world. The dream of a woman who discovered that doing what you love nets far greater gains than can be measured by a paycheck.
I may travel the world for much of my work, but I am a proud Canadian who recognizes that our fate and fortune of geography offers us a unique place in this world. When the world finds itself in conflict, people often turn to Canada… a stable, fair, responsible player on the world stage. En tant que Canadiens, nous avons la possibilité de diriger le monde par notre exemple. Nous pouvons vivre en paix et en harmonie avec notre planète de l'eau. As Canadians we have an opportunity to lead the world by our example. That we can live in peace and harmony with our water planet. Thank you for entrusting me with this humbling and exciting new role for the years ahead.